Questions?
You've come to the right place! Georgia has been a tester, a model, a receptionist, and a forklift driver. She knows pretty much everything there is to know about us. Don't believe it? Just ask her. She'll tell ya! Curious about the durability of our cots? Interested in Wholesale? Want to customize your order? Keep reading for answers to these and other common questions we've heard over the years.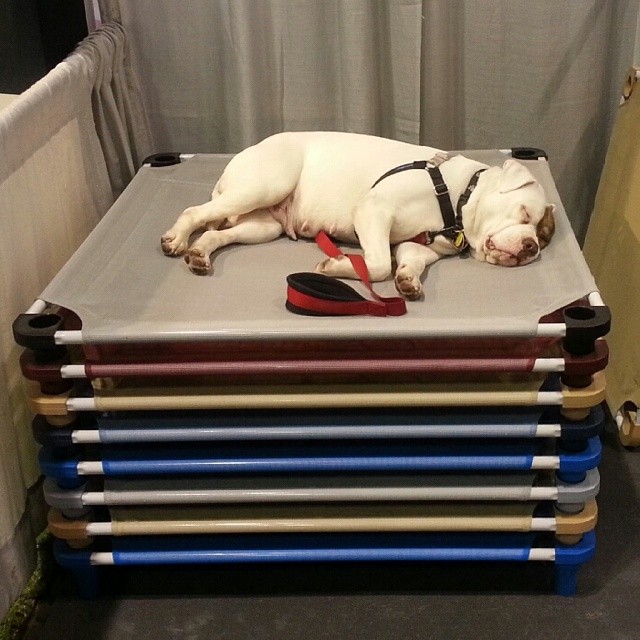 May I phone in or email my order?
Unfortunately no, because we process a high volume of orders daily – our web site prompts the selection of required info and automatically processes the credit card payment, etc., which helps us to schedule and process your orders correctly and quickly.
How much is it to have my logo printed on my cots?
There is no set-up fee, and the cost depends on cot size; $6 for the smallest cot up to $11 for the largest cot. If printing on dark fabric color, it may require a white underlay which adds 50% more to the cost. Please visit our Logo Page for additional details and more answers.
How soon will I receive my order?
We manufacture components in-house for over 20,000 + SKUs and custom pack each order. Orders on average are delivered in 2 weeks or less but could be a few days longer during the summer, our peak season. Custom logo orders, however, require longer lead time.
Do you sell on amazon?
No, our products are not allowed to be sold on Amazon, Walmart, E-bay or other mass-market sites. Sometimes these retail giants will misrepresent our brand and product photos in order to redirect consumers to their site.
Do you offer free shipping?
No, but shipping is greatly reduced when ordering in case packs (6 qty.) for cot sizes with 22″ in the measurement and (5 qty.) for cot sizes with 30″ in the measurement. We can now individually box cots, any size, up to 6 qty. in master outer pack (you'll be asked at check-out, if you require your order to be individually boxed).
Don't need a full case pack? Shipping is always highest on 1 qty. of any size, but for only a few more dollars you can get two cots – one for your pet and one for a friend – or how about donating a cot to your local animal shelter or rescue?
The highest shipping cost is on the 52″ length cot – it's due to the shipping carrier's dimensional/oversized rule.
Check the different cot sizes & quantities in your cart to find the best rates.
Can I find your products locally?
Yes, our products are sold in brick & mortar pet stores, training, daycare, and grooming facilities, veterinary clinics, farm & feed stores and other businesses in the USA, Canada & Overseas.
Can you drop ship?
Yes, we can ship to an address other than yours at no extra cost (shipping applies) – just put that address in the 'Shipping Address' portion of the order.
Do your products have a warranty?
Yes, we have a limited warranty which covers defects in materials and workmanship.  Please see the details on our policies page.
What's the best way to clean and disinfect a cot?
Use 4 oz. of bleach to a gallon of water – wipe with a soft cloth or hose off with water.
Logo Customized Cots: If using other cleaning or disinfecting method, test on the logo samples first.
How do the cots hold up in animal shelters and rescues?
Typically dogs in stressful situations tend to chew more than the average pet. There are no 100% chew-proof cots available on the market.
Our cots (customized logo or not) make great fundraiser items for shelters & rescues. Interested? Let's Talk! →
Fundraisers
We know that there is a need for pet cots in shelters and rescues around the world…
While our cots are not well suited for pets in stressful situations, they do make ideal fundraiser items in raffles and auctions, raising much-needed funds for the animals.
Is there a minimum order quantity required for wholesale pricing?
How do I apply for wholesale pricing?
Pet-related businesses may apply for wholesale pricing. Please visit our wholesale page for additional information and instructions.
Do you offer retail packaging & displays?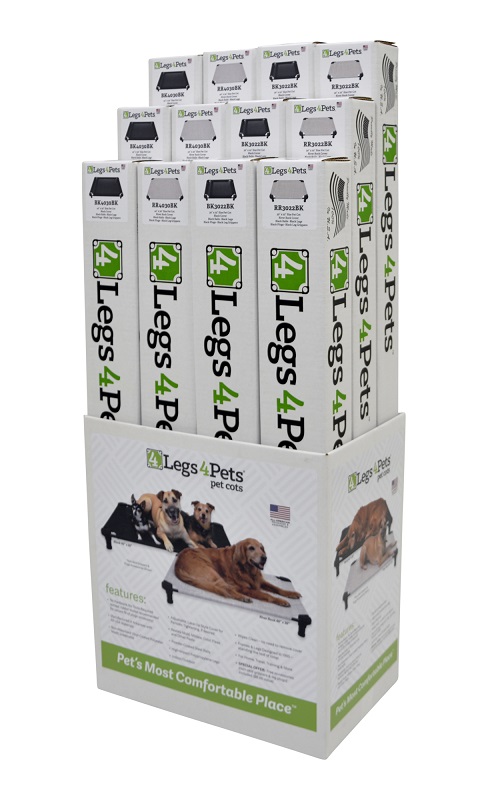 Assembled Cots make the best visual display, while cardboard displays are good for very limited retail space. You may want to display one or more assembled cots and store the individually boxed cots in a stock room, closet, or storage facility. And if you're a mobile dog trainer, you might want to keep some inventory in your vehicle. You'll be asked at check-out, if you'd like your cots individually boxed (no additional cost; shipping applies). Do you want to become our wholesale partner? Check out our Pawtner Page.
Have more questions, or just want to drop us a line? Let's Talk! →